With almost identical looks with iPhone 6 but better design, iPhone 7 entered the market with a bang. Even though it is stronger than the iPhone 6 (which is prone to bending), water resistant, and with improved home button, it is not flawless. There are rapid cases of users reporting touch disease in iPhone 7 and iPhone 7 plus.
Touch disease in iPhone 7 and iPhone 7 Plus causes the touchscreen to become unresponsive due to failure in connection of touch controller chip with the logic board.
If you accidentally drop your phone on a hard surface, there is a possibility that the connection of logic board with the touch controller chip is disfigured.
Don't panic! It doesn't happen always. To check whether your phone is having the touch disease, read on!
Symptoms
The primary symptom is a flickering grey bar on the top of the screen.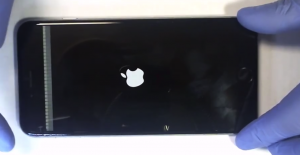 Secondly, once the grey bar starts flickering on the top of the screen, the screen becomes intermittently unresponsive across the entire display.
Causes
The main cause of touch disease in iPhone 7 is the connection failure of touch controller chip & logic board. The chip is soldered to the logic board and may have lost connection. Touch controller chip is responsible for the proper functioning of the touch screen in your phone. If your phone's screen is dead, then it might require micro soldering of the touch controller chip back on the logic board. Micro soldering is a technique where the device is needed to be repaired and soldered under a microscope.
Above is the picture of a bare logic board of iPhone 7. The blue highlighted area is the touch controller chip which is responsible for the touch screen to function properly.
At iPhoneBits, we have expertise in fixing such issues.
To get your phone repaired, call us now 07731446515.